Erik Høg
Name: Erik Høg
Title: Emeritus, associate professor, dr. scient. 
Address: 

Niels Bohr Institute
Blegdamsvej 17, 2100 Copenhagen Ø, Denmark
Email privat: 

ehoeg@hotmail.dk
Phone privat: +45 6170 6129 
Please use my private email and phone! 
1 Overview of research - in 2019 in English
My research has mainly been on astrometry since I was a 21 year student in 1953 in Copenhagen. Astrometry is the observation of positions, motions and distances of stars. My tutor Peter Naur introduced me to electronics and computer sciences then new disciplines for astronomers and this led me focus on improvement of the astrometric foundation of astronomy. In 1960 I designed a new astrometric method by photon counting. This was basis for the first astrometric satellite Hipparcos on which I worked 1975-2000. Astrometric data from the current Gaia satellite launched in 2013 are revolutionizing astronomy in all branches. Since 2013 I am working on a Gaia successor for launch about 2035.
Surveying the sky
My scientific work during 50 years appears on the website of the Niels Bohr Institute at:
https://www.nbi.ku.dk/english/www/astrometry/surveying/
News
Høg E. 2018, Das Alter der Welt. In German 6 pages. In: Sterne und Weltraum, Oktober 2018, Welt der Wissenshaft: Essay. Available at
http://www.astro.ku.dk/~erik/xx/AlterDerWelt.pdf
McArthur, B., Hobbs, D., Høg, E., Makarov, V., Sozzetti, A., Brown, A., and 17 coauthors 2019, All-Sky Near Infrared Space Astrometry. White Paper to the National Academy of Sciences (NAS) Committee for Decadal Survey on Astronomy and Astrophysics 2020 (Astro2020), 7 pp at
http://arxiv.org/abs/1904.08836
http://www.astro.ku.dk/~erik/xx/WhitePaperNIRSpaceAstrometry.pdf
Høg, E., Hobbs, D. 2019, Gaia Successor with International Participation. Abstract of a talk submitted to Annual Danish Astronomy Meeting on May 2-3. Available at http://www.astro.ku.dk/~erik/xx/GaiaSucTalk.pdf
Høg E. 2019, List of my papers since 2006. 9 pp.
http://www.astro.ku.dk/~erik/xx/arXivHoeg.pdf
2 Oversigt over forskning - i 2018 på dansk
Fra instituttets hjemmeside:
Astronomen Erik Høg er uddannet på Astronomisk Observatorium ved Københavns Universitet fra 1950-56, og har arbejdet med udvikling og anvendelse af metoder til måling af stjerners positioner. Efter et langt og rigt liv indenfor Astrometrien, som han selv har sat store fingeraftryk på, er han stadig aktiv i en alder af 86, og rejser i dag rundt og holder foredrag for alle, som måtte have interesse i historien bag "Landmåling af Himlen" eller andre astronomiske emner om Universet.
Man kan inddele Astronomien i to grene : Astrometri og Astrofysik. I astrometri er stjerner blot lysende punkter på himlen. I astrofysik er en stjerne som vores Sol en glødende gaskugle, hvis spektrum man måler for at forstå stjernens struktur og udvikling.
Et astrometrisk eksperiment i 1925 var begyndelsen til en udvikling, som astronom Erik Høg, Niels Bohr Institutet, udviklede fra 1960. Han udtænkte en ny metode til nøjagtig måling af stjerners position på himlen, der førte til, at ESA kunne opsende den første store astrometrisk satellit Hipparcos i 1989. Et videnskabeligt højdepunkt er stjerne-kataloget Tycho-2 fra år 2000, der beskriver 2.5 millioner stjerners position og bevægelse, og som straks blev helt uundværligt ved styring af satellitter og ved astronomiske observationer fra satellitter og med teleskoper på Jordens overflade.
Læs mere om Erik Høg på Niels Bohr Institutets hjemmeside fra juni 2017 her: http://www.nbi.ku.dk/navnligt_navne/2017/?p=2
3 Om foredrag og populære artikler
Se nedenfor ved #5
4 Tidsafsnit 1950-2018 for Erik Høg
1. Uddannelse til astronom ved Københavns Universitet, og opførelsen af Brorfelde (1950-58)
2. Forskning i Tyskland ved observatoriet i Hamburg (1958-73)
3. Hjemvendt til Danmark i 1973, udvikling af den først astrometriske satellit Hipparcos (1975-89)
4. Udvikling af den anden astrometriske satellit Gaia (1990-2007)
5. Pensionering i 2002, foredrag og historiske artikler (2002-2018)
6. Forslag om en tredie astrometrisk satellit til opsendelse i 2035 (2013-2019)
5 From my website as it appeared in 2017 - Fra hjemmesiden i 2017
Extract with lectures, popular papers and research
Uddrag med foredrag, populære artikler og forskning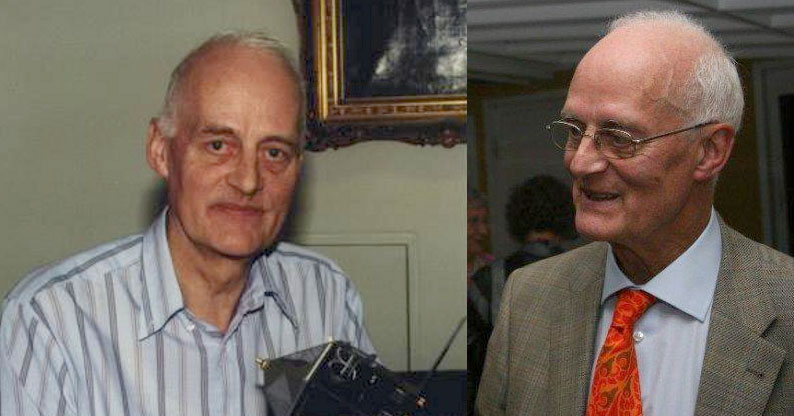 First photo: In my office 1997 with the Hipparcos satellite. - Then: In 2009
5.1 Indledning på dansk -
English begins further down on the page at 5.4 Research
Asteroiden Erikhøg og to medaljer.
Mit videnskabelige arbejde gennem 50 år: På Niels Bohr Institutets hjemmeside og i en artikel: "En landmåler i himlen" i KVANT, oktober 2010.
Populære artikler over nogle astronomiske emner: Erik Høgs Astronomi.
Vil du vide noget om Big Bang? Så læs: Hvad var der før Big Bang?
En artikel "Stjerner og sorte huller" fortæller om stjerners fødsel, liv og død og om sorte huller, som er noget af det besynderligste i verdensrummet.
Mennesket paa opdagelse - En kort fortælling om universet for 11-12 årige. En rejse med den kosmiske tidsmaskine tilbage til kort efter Big Bang og længe før de første stjerner blev født.
5.2 Syv populære foredrag
Alle syv foredrag på en liste fra A til G her.
Foredrag A. Planeter, måner og stjerner Vi tager på en rejse i rummet, hvor vi ser universets udvikling siden Big Bang. Foredraget er holdt som indledning til "en uge i rummet" for elever på 4. årgang. Med nogle tilføjelser efter nærmere aftale er det også egnet for ældre elever og voksne. Der er god plads til samtale under foredraget.
Foredrag D. "Tro og viden om universet gennem 5000 år".
Foredrag E. "Om tidernes morgen og hvad derpå fulgte" blev holdt første gang som offentligt foredrag på Niels Bohr Institutet den 8. november 2006. Det er holdt igen, f.eks.: 19. marts 2009 på Niels Bohr Institutet i København
Billeder fra en PowerPoint presentation af dette foredrag findes her.
Fra foredragene vil jeg håbe, tilhørerne husker kæmperne i videnskabens historie: Aristoteles, Archimedes, Newton og Einstein. Men husk også, at videnskaben blev udviklet ved et meget langt og sejt træk af mange kendte og ukendte forskere gennem 5000 år. Dette lange træk kan vi takke babylonere, grækere, arabere og den katolske kirkes folk for. Det førte frem til renaissancen, hvor Kopernicus, Tycho Brahe, Kepler og Galilei omkring år 1600 startede en ny periode med den rivende udvikling af videnskab og teknologi, som vi oplever i dag.
Og husk et af de ypperste resultater: Hele universet var engang mange tusind grader varmt og vi observerer direkte det 14 milliarder år gamle lys fra dengang, men det er på den lange vej blevet til mikrobølger!
Jeg anbefaler to bøger: Olaf Pedersen: Naturerkendelse og Theologi fra 1996, og Olaf Pedersen & Helge Kragh: Fra kaos til kosmos fra 2000.
5.3 Artikler
Min artikel "Verdens alder ifølge de højeste autoriteter" til Universitetsavisen 26. oktober 2006. Ny udgave den 24. december 2007.
"Universets størrelse - tro og viden gennem 2500 år" - med enkelte rettelser d. 10.04.2003.
The same paper in English: "The depth of the heavens: Belief and knowledge during 2500 years" see below.
En ny avanceret satellit, Gaia, er vedtaget af ESA (European Space Agency). Danske forskere har bidraget afgørende til projektets udvikling, derfor udsendte Astronomisk Observatorium en pressemeddelelse den 9. november 2000 med beskrivelse af projektet og links til yderligere information. Gaia er en videre udvikling baseret på det nedenfor beskrevne Hipparcos projekt.
---
5.4 Research
My research was focused on development and work with meridian circles from 1953 to 1975. After 1975 I worked on satellite astrometry and photometry, that is to design new, more powerful instruments for astrometry and photometry from space and to take part in their development and exploitation. Since 2002 I have taken increasing interest in the history of these subjects.
5.5 History of astrometry and optics
Astrometry and optics during the past 2000 years: - 25 November 2009. A collection of 9 reports. - Further reports added in April 2011.
Four lectures about the general history of astrometry .
"The depth of the heavens: Belief and knowledge during 2500 years" from Europhysics News 2004, slightly updated on 20 Feb. 2004. Separately: Table 1 from p.3. Slides from a presentation in Paris in June 2010: click here.
"From a modest experiment in 1925 to the Hipparcos and Gaia space missions " a lecture held in Skt. Petersburg, Heidelberg, Rio de Janeiro, Morelia and Beijing in 2009 and at Kroppedal Museum near Copenhagen on 6 May 2010, in slightly different versions.
5.6 Hipparcos
My main work for many years has been the participation in the Hipparcos satellite mission of the European Space Agency. The observations were carried out between 1989 and 1993. The satellite main experiment measured 120 000 stars selected for their scientific interest. Positions, annual proper motions and parallaxes of the stars have been obtained with a precision of 1.0 milliarcsec. The Tycho experiment of the satellite has provided the positions for 2.5 million stars with a standard error of 9 milliarcsec for stars with V < 9 mag and typically 60 milliarcsec for faint stars. The stars obtained B and V magnitudes with a precision of 0.012 mag for V < 9 mag and 0.09 mag for faint stars. The resulting Tycho-2 Catalogue includes proper motions with a precision of 2.5 arcsec/yr, derived by means of the Astrographic Catalogue.
5.8 Gaia
In 1990 I started to design a powerful successor to Hipparcos, thus contributing to the ESA mission Gaia which was approved by ESA in October 2000. It was launched in 2013.
Some images of Gaia from the Gaia website are found here in pdf, 1.8 MB.
A contribution to IAU Symposium No. 248 in Shanghai in October 2007: "From the Roemer mission to Gaia". Here 6 pages in pdf, the final version of 10 December. Here some slides in pdf. #2, 3, 8 of these shows 2000 years astrometric accuracy, the first 2 in colour, #8 in B/W.